Research by Deloitte has found that, on average, IPO share prices outperformed the market by 2.5 percentage points in the first half of this year. The share price of this year's IPOs increased by 3.1% on average from listing to 30 June 2014, compared to an average increase of 0.6% for the FTSE 100 Index over the same periods.
This means £1,000 invested in shares in each of this year's 25 IPOs (£25,000) would have returned £25,764 on 30 June 2014. This return is £632 more than investing the same amount in the FTSE 100 Index at the time of each company's IPO, which would have returned £25,132.
John Hammond, head of equity capital markets at Deloitte, said: "Despite recent reporting about those IPOs that have fallen behind their initial listing prices, on balance the performance of newly listed companies in the first half of the year is both up in absolute terms and when compared to the FTSE 100.  Over 50% of the IPOs in 2014 had outperformed the market, which includes eight of the eleven companies that started trading in June.
"There were 25 main market IPOs in the first half of 2014, and already we have seen more IPOs so far this year than for the whole of 2013. As we approach the summer we would expect an initial slowdown in IPO activity but overall demand should continue in the final six months, with companies looking to IPO from a number of sectors including financial services, technology and healthcare."
Note: IPOs as referred to above are defined as London Main Market  Listings for trading companies issuing shares (i.e. investment companies, venture capital trusts, transfers from other markets, cash shells and those companies issuing GDRs have been excluded).
IPO Barometer - Year to 30 June 2014
Table: IPOs in the six months to June 2014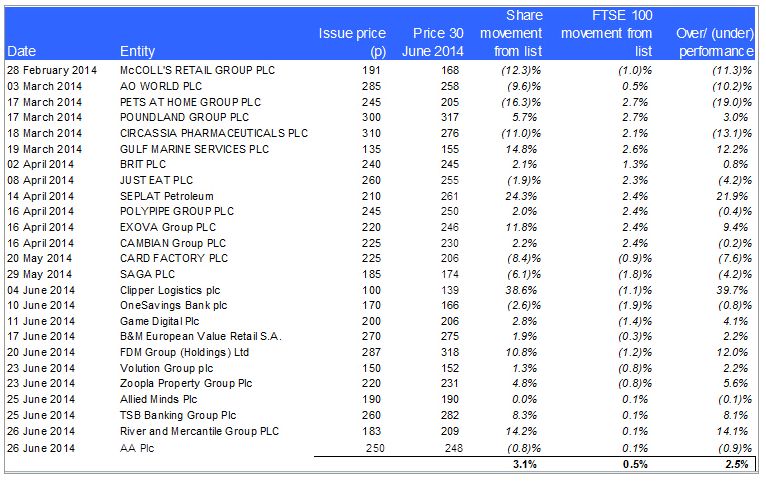 The content of this article is intended to provide a general guide to the subject matter. Specialist advice should be sought about your specific circumstances.