Bâtir une image de marque ou un portefeuille de brevets, c'est bien. Le faire selon une stratégie de propriété intellectuelle (PI) établie, c'est mieux.
Une stratégie de PI adaptée ne doit pas se faire en réaction à une situation imprévue ou au comportement douteux d'un concurrent. Une stratégie de PI se doit d'être adaptée aux besoins précis de l'entreprise et ne pas simplement constituer une accumulation un peu hétéroclite de droits divers.
En fait, une bonne stratégie de PI constitue le résultat d'une démarche réfléchie qui correspond à un plan défini, fondé sur des objectifs précis et sur des comportements connus des acteurs du marché, qui permet d'utiliser de façon maximale la législation, les protections contractuelles, les politiques d'innovation et les actifs de PI, y compris les brevets, marques de commerce et secrets commerciaux (p. ex. recettes ou données), pour protéger et faire croitre la valeur de votre entreprise.

Idéalement, une stratégie de PI préconise des actions concrètes destinées à stimuler la croissance et réduire les risques. Celle-ci est adaptée à votre situation et soutient la mission de votre entreprise et celle de vos collaborateurs. Une stratégie de PI peut notamment traiter des aspects suivants :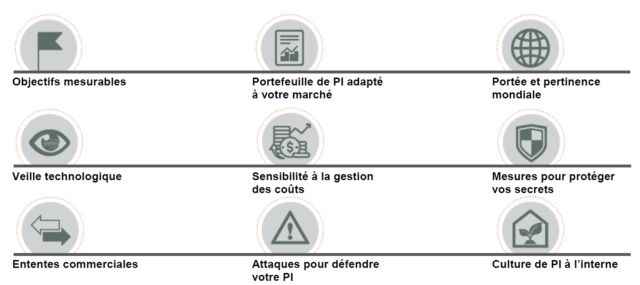 Prenons la culture de PI à l'interne comme exemple.
La protection de la PI commence par la mise en place et la promotion d'une forte culture de la PI à l'interne. Une telle culture, pour être efficace, doit s'étendre à tous les niveaux hiérarchiques de votre entreprise de la direction jusqu'aux employés et fournisseurs. Lorsque votre entreprise investit dans la formation en PI et qu'elle développe des programmes afin d'encourager et valoriser celle-ci à l'interne, il va de soi que la valeur de vos actifs intangibles sera bonifiée, que ce soit par une protection accrue des innovations que par une réduction des coûts à long terme.
De plus en plus, entretenir une culture de PI moderne contribuera à attirer et soutenir les talents, ce qui peut s'avérer un avantage important, tout particulièrement dans le contexte actuel de rareté de main-d'Suvre qualifiée.
En effet, les principaux talents en matière d'innovation (p. ex. ingénieurs, physiciens, développeurs, responsables de l'innovation, experts en la matière) souhaitent de plus en plus faire partie d'une entreprise ayant une forte culture axée sur l'innovation. Aux yeux de ce personnel, se concentrer sur la PI peut distinguer une organisation innovante d'une qui ne l'est pas. À l'inverse, l'absence de stratégie de PI, ou sa mauvaise exécution, suggère que l'innovation n'est pas la priorité de l'entreprise, ce qui fera ombrage à ses efforts de recrutement. Une culture de PI constitue donc un atout indéniable!
Ainsi, dans les domaines liés à la haute technologie, comme en optique-photonique, où les entreprises se disputent les mêmes ressources, ne pas miser sur la PI nuira aux efforts de recrutement et fera obstacle à la rétention du personnel qualifié. Bref, avoir une solide culture de la PI est un signal fort que l'entreprise tient vraiment à protéger son avantage technologique et est prête à investir pour y parvenir.
Un merci tout spécial à Jeffrey Kang, Jean-François Drolet et Alexandre Daoust pour leurs contributions respectives à ce billet.
---
About Norton Rose Fulbright Canada LLP
Norton Rose Fulbright is a global law firm. We provide the world's preeminent corporations and financial institutions with a full business law service. We have 3800 lawyers and other legal staff based in more than 50 cities across Europe, the United States, Canada, Latin America, Asia, Australia, Africa, the Middle East and Central Asia.
Recognized for our industry focus, we are strong across all the key industry sectors: financial institutions; energy; infrastructure, mining and commodities; transport; technology and innovation; and life sciences and healthcare.
Wherever we are, we operate in accordance with our global business principles of quality, unity and integrity. We aim to provide the highest possible standard of legal service in each of our offices and to maintain that level of quality at every point of contact.
For more information about Norton Rose Fulbright, see nortonrosefulbright.com/legal-notices.
Law around the world
nortonrosefulbright.com
The content of this article is intended to provide a general guide to the subject matter. Specialist advice should be sought about your specific circumstances.