General counsel are under intense pressure to do as much work as possible in-house to save money, if law firms want to win instructions they must become increasingly focused
A survey of nearly 200 senior in-house lawyers in Spain has revealed that many face the struggle of having to do "more for less" due to the fact that, while in-house legal departments´ budgets have remained broadly the same in the last two years, their roles have expanded and their responsibilities have increased without commensurate growth in personnel or support from external lawyers.
The recently published Iberian Lawyer In-house Club study concluded that one of the main lessons learned by in-house lawyers during the crisis was the "need to control expenditure". The report added: "While the outlook for the economy is positive, general counsel remain cautious when making decisions about expenditure and examine costs much more closely."
Iberian Lawyer conducted a similar study back in 2012 and the latest report – which covered 2014 and analysed responses from general counsel at Spain´s biggest companies – concluded that legal department budgets had remained broadly the same since then, despite some minor variations [see box]. The bad news for law firms, according to the report, is that general counsel place a "priority" on performing as much legal work as possible in-house. That said, there is some reason for optimism due to the fact that in-house legal departments prefer to use external law firms in matters where the complexity or associated risk is so great that it could potentially damage the reputation of the legal department if something was to go wrong.
Get to know your clients
The fact that general counsel are trying to get more legal work done in-house will be of concern to law firms, with many partners remarking that clients are less loyal to their external legal advisers. So, what do they need to do to convince in-house lawyers to seek the services of external counsel? Specialisation is among the top requirements of clients, that is, a proven track record in the area in which they are seeking advice. In addition, law firms can add value by demonstrating a clear understanding of the business of their client and the sector in which they operate. As the shrewdest partners are already aware, this will enable the law firm to assume the role of "trusted adviser".
One of the key findings of the report was that litigation and arbitration are the types of legal work that are most commonly outsourced with 73.5 per cent of respondents passing these tasks to external law firms. To give an indication of how much of this work is outsourced, a total of 19.1 per cent outsourced between 81 per cent and 100 per cent of their contentious matters. Meanwhile, a total of 62 per cent of participants in the survey said they outsourced some corporate and M&A work – this was largely attributed to the tendency in recent years to look abroad for new business opportunities. "Such clients need a law firm that knows the peculiarities of each jurisdiction," the report said.
Majority of clients outsource
Work relating to public and administrative law is also frequently outsourced by in-house counsel, largely because these matters are often litigious in nature. The report found that other commonly outsourced matters include finance and employment-related matters, largely due to the fact that these are areas in which Spain has seen a great deal of regulatory changes.
The vast majority of in-house legal departments do at least outsource some work to external law firms, according to the research – only 1.7 per cent of respondents said they did not. A total of 43 per cent of respondents said they outsourced between 11 per cent and 25 per cent of their legal work, while 23 per cent of those participating in the survey said they outsourced between 26 per cent and 40 per cent.
At the other end of the scale, there is a tendency for in-house legal departments to outsource routine matters, which though they may amount to simple tasks, are very time consuming, particularly when general counsel have to increasingly prioritise strategic work. Consequently, in this context, "external support is important", the report concluded.
How do you sleep?
What is encouraging for law firms is that, despite the inclination of general counsel to do as much legal work as possible in-house, there are still significant matters that keep in-house lawyers awake at night. More than half of respondents said litigation and arbitration, as well as corporate and M&A, were matters that would make them "lose sleep" in the coming year. Another concern for in-house lawyers is their companies´ international expansion plans – just under 30 per cent of those participating in the survey said this was a worry to them. A number of respondents said that, even if they were familiar with a foreign jurisdiction, if laws are changing in that country, "it can be difficult to capitalise on any existing knowledge". Consequently, in such a situation, in-house counsel require external lawyers to provide them, at what is a time of great uncertainty, with the "insurance policy of an external lawyer´s seal of approval", as one company lawyer put it.
In order to adapt to this market shift, it is important that law firms offer more specialised services, say clients. In addition, it is vital that firms gain an in depth knowledge of their clients´ business and the sector in which they operate. Abraham Franco, legal manager Iberia at British American Tobacco, says: "In order for us to outsource work to them, law firms need to offer specialised legal advice and be able to provide business oriented solutions for our company."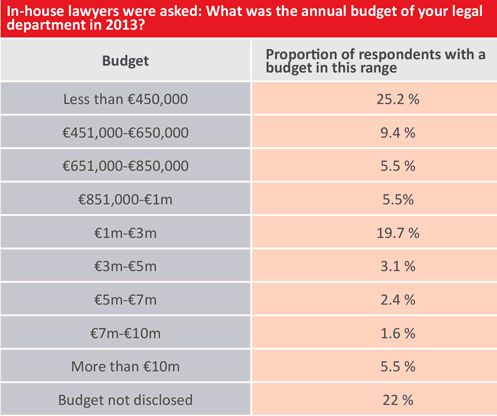 Help needed with bankruptcy
Silvia Madrid, head of legal Southern Europe at Royal Bank of Scotland, echoes the view that greater specialisation is a key requirement and adds that the bank outsources work when a number of other lenders are involved in a transaction. "When we decide to outsource legal work, the main drivers are the volume of the work, and the need for specific expertise in the relevant matter," Madrid says. "All syndicated transactions, where several lenders are involved, require external legal advice, because we don't have sufficient capability internally to handle the drafts and the required coordination with the other lenders."
Madrid identifies the typical areas of the law in which specialised external advice is required. "With regard to the lack of expertise, the typical areas where we request external advice are bankruptcy, litigation, tax and employment law," she explains. "We don't have the expertise to provide the optimal legal advice, and thus, we should engage external counsel – I would say that last year, bankruptcy related scenarios was the area in which we dealt most with external counsel."
The choice is yours
Specialisation is clearly key, but there is also a need for external counsel to provide good customer service as well as a clear idea of the cost. Oscar Garcia Maceiras, general counsel at Sareb, explains: "What we want is experience in the matter being outsourced as well as customer service that includes human resources, and other resources that can be effectively verified – we also want to pay the right price and that includes a fixed fee to cover the costs of the firm, as well as a variable fee that is dependent on performance."
Despite the pressure on in-house lawyers to cut costs, there is still considerable demand from general counsel for the services of external law firms. But in a highly competitive market, how do firms ensure they are the ones picking up the instructions rather than their competitors. Specialisation appears to be one of the key factors – get to know your client´s business and the way in which their industry operates, and your firm will be viewed as a valued strategic partner.
Redstone Consultants director Moray McLaren says the strategic choice for law firms is now "clearer than ever". He adds: "Firms can either focus on specialisation, increasingly through specific business sectors, or adopt a business model that can provide standard work at an even lower price – being neither one nor the other looks increasingly difficult."
The content of this article is intended to provide a general guide to the subject matter. Specialist advice should be sought about your specific circumstances.