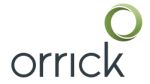 United States

: Profiles In Innovation: Twist Bioscience's Co-Founder Navigates Company From Start-Up To Public Company

NB. This article is not published yet. Please try again later.

Events from this Firm

28 Aug 2019, Webinar, San Francisco,

United States

This CLE webinar will analyze the potential antitrust ramifications of joint ventures (JVs) and other collaborations between competitors and how to balance the pro-competitive efficiencies against the anti-competitive effects of a proposed JV.

1 Oct 2019, Other, Washington, DC,

United States

Orrick is proud to host the AIPN for its final breakfast meeting of 2019 for a session titled "Helping the World Gasify". As natural gas production and use is very unevenly distributed throughout the world, often gas produced in association with crude oil is sold below cost or flared.

25 Nov 2019, Speaking Engagement, New York,

United States

Lorraine McGowen will be speaking on the upcoming "Evaluating the Financial Health of an Entity" panel at the New York session of the Pocket MBA: Finance for Lawyers and Other Professionals program, hosted by the Practising Law Institute.
In association with

Mondaq Advice Centers (MACs)
Related Video
Up-coming Events Search
Tools