Last week, Intelligize published The Unicorn IPO Report, which analyzes IPOs from 2016 through 2018.  In 2016, the report notes that the AppDynamics IPO was days away from completion prior to its acquisition by Cisco for $3.7 billion.  There were 13 unicorn IPOs in 2017 and 20 in 2018.  Despite the increase in number of deals in 2018, the size of the Snap IPO ($3.4 billion) in 2017 skewed the average offering size for 2017 IPOs.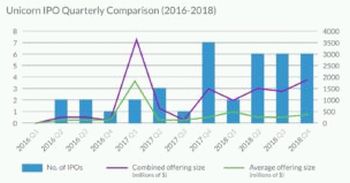 From 2016 through 2018, the ten largest unicorn IPOs were as follows:  Snap Inc. ($3.4 billion), Dropbox Inc. ($756 million), DocuSign Inc. ($629.3 million), Moderna Inc. ($604.3 million), Switch Inc. ($531.3 million), Allogene Therapeutics Inc. ($324 million), Pluralsight Inc. ($310.5 million), Blue Apron Holdings Inc. ($300 million), Bloom Energy Corp. ($270 million), and Anaplan Inc. ($263.5 million). The report provides statistics on the underwriting fees for unicorn IPOs; a 7% fee remained the norm for all but seven offerings. This is interesting given that an SEC Commissioner's comments on underwriting fees has raised concern and interest among legislators that smaller and medium-sized companies were paying higher fees.
About 30% of the unicorn IPO issuers had multi-class share structures.
The survey also reports on governance and other trends.
Visit us at mayerbrown.com
Mayer Brown is a global legal services provider comprising legal practices that are separate entities (the "Mayer Brown Practices"). The Mayer Brown Practices are: Mayer Brown LLP and Mayer Brown Europe – Brussels LLP, both limited liability partnerships established in Illinois USA; Mayer Brown International LLP, a limited liability partnership incorporated in England and Wales (authorized and regulated by the Solicitors Regulation Authority and registered in England and Wales number OC 303359); Mayer Brown, a SELAS established in France; Mayer Brown JSM, a Hong Kong partnership and its associated entities in Asia; and Tauil & Chequer Advogados, a Brazilian law partnership with which Mayer Brown is associated. "Mayer Brown" and the Mayer Brown logo are the trademarks of the Mayer Brown Practices in their respective jurisdictions.
© Copyright 2019. The Mayer Brown Practices. All rights reserved.
This Mayer Brown article provides information and comments on legal issues and developments of interest. The foregoing is not a comprehensive treatment of the subject matter covered and is not intended to provide legal advice. Readers should seek specific legal advice before taking any action with respect to the matters discussed herein.