The biotech sector is fundamentally linked to global healthcare expenditure, which in turn is dictated by the decisions of politicians, governments, and insurers, who form the overwhelming majority of "buyers". Rising healthcare budgets pave the way for increased revenues in the biotech sector, which can, in turn, be redirected into further research and development ("R&D"). The outlook is broadly positive for the industry – the most recent available data from The World Bank recorded average world healthcare expenditure at $1,059 per capita, with The Lancet predicting a rise to as much as $3,500 per capita by 2040, which is impressive (and possibly worrying!) for such a well-established industry.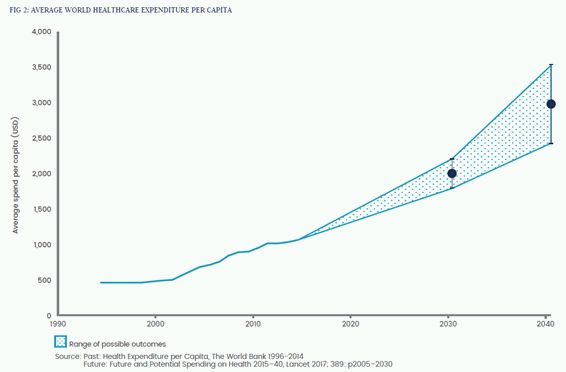 The increase in healthcare expenditure, and the growth of the biotechnology industry more generally, is expected to be driven by two main factors: growing as well as ageing populations, and the expansion of the global middle-class, particularly in markets like China and India.
Demonstrating the first point, with specific reference to the UK, the King's Fund, the foremost healthcare think tank in the UK, write the following:
"When the NHS was founded in 1948, 48% of the population died before the age of 65; that figure has now fallen to 14%. Life expectancy at 65 is now 21 years [i.e age 86] for women and 19 [age 84] years for men, and the number of people over 85 has doubled in the past three decades. By 2030, one in five people in England will be over 65."
Figure 3 shows the past and predicted life expectancy at birth in selected countries. Unfortunately sources could not be found for future predictions for China, India, and Russia but we can see a generally upwards trend that is showing only slight signs of tailing off.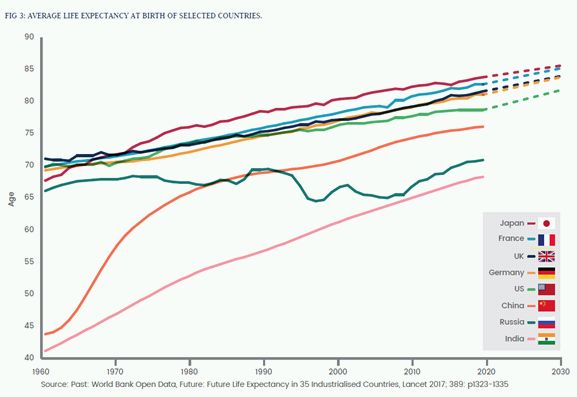 As the population ages, the demand for treatments of age-related diseases and ailments such as heart disease, diabetes, arthritis, and dementia is likely to soar. Technologies to ease this burden are highly sought-after, and their development will create opportunities for businesses to implement technological advances and the services to support this.
Industry growth is also expected to be driven by increasing demand from developing countries whose healthcare burdens, and means of easing them, are increasing. For example, the healthcare market in India is expected to grow from $110 billion in 2016 to $280 billion by 20208 due to a number of factors, not least an ageing population, but also high incidences of non-communicable diseases like heart disease and diabetes, increasing disposable incomes, and increasing awareness of health issues. Moreover, outbreaks of communicable diseases seem to be on the rise, perhaps due to rapid population growth in cities that remain characterised by poor infrastructure and sanitation.
In addition to the rising demand forecasted to be paid for by governments and insurers, there is increasing opportunity of selling products directly to the consumer. There has been a growing trend in sales of items for home-use that were not available ten years ago. This is driven by the upward trend towards preventative health treatment but also the lifestyle that emphasises fitness, outdoor activity, and wellness. This has created a market for lower-cost, mass-volume products such as dietary supplements sold to supermarkets and pharmacies rather than to the NHS, as well as higher end healthtech devices like fitness trackers and their associated apps. While the ageing population provides a growing market for home preventative devices and supplements, the intersection of healthtech and retail could either be considered part of a growing fashion trend towards personal health and fitness spurred by the young, or as a passing fad which is likely at the top-end of a cycle.
It is impossible to be in the UK's healthcare-based biotech sector without an appreciation for the size and importance of the NHS: it is one of the largest employers in the world with approximately 1.6 million doctors, nurses, and support staff under its banner. Their budget for medtech devices, software for data management, and pharmaceuticals, spans the product range of biotech companies and provides the possibility of reaching scale if a product can prove value-for money. While the newspapers abound with stories of cuts to frontline services, the prospect of above-inflation increases in healthcare spending looks promising over the medium and long term. Although the NHS leverages its prominence and size to obtain commercially attractive terms with suppliers there is also scope to opportunistically sell new or emerging products into individual NHS trusts. The NHS provides the greatest opportunity for continued domestic growth in consumption as well as the possibility of quickly reaching scale, albeit without the benefits to suppliers of less price-sensitive healthcare systems like those found in the US. Therefore a strong knowledge of the NHS commissioning landscape, and a track record of selling into the NHS, should be considered a great strength for a UK based biotech focused fund manager.
MJ Hudson Allenbridge's report on Tax-Advataged Investing in the Biotechnology Sector can be downloaded here
The content of this article is intended to provide a general guide to the subject matter. Specialist advice should be sought about your specific circumstances.