CK Birla Group, the parent company of Hindustan Motors, an Indian Automotive Manufacturer based in Kolkata, India, issued a statement on February 11, which confirmed that the iconic Ambassador brand has changed hands and has been sold to European auto major Peugeot for a sum equal to ₹ 80 crore. ($ 12 Million approx.)
The official statement read as, "Hindustan Motors has executed an agreement with Peugeot SA for the sale of the Ambassador brand, including the trademarks, for a consideration of ₹ 80 crore". The CK Birla group firm has inked an agreement with Peugeot SA to this effect.
Peugeot is a French car manufacturer, part of Groupe PSA, renowned for its roaring-lion trademark. The PSA Group has inked a partnership with the CK Birla group to re-enter the Indian market and earmarked an initial investment of 100 million euros (around ₹ 700 crore) to set up vehicle and powertrain manufacturing in Tamil Nadu. The tie-up entails two joint venture agreements between the companies of the two groups.
The long-term partnership will allow both companies to participate in the growth of the Indian automotive market, which is expected to reach 8-10 million cars by 2025, from the current 3 million in 2016, according to a report by the Hindustan Times.
The PSA group, which sells three brands – Peugeot, Citroen and DS – is no stranger to India, having entered into a partnership with the erstwhile Premier family, resulting in joint venture Peugeot PAL India. However, it pulled out of the JV in 2001.
The group had made repeated attempts to return to the Indian market. In 2009, it decided to go slow on plans to kick off operations in India due to a global economic slowdown. Later, in 2011, it announced plans to re-enter the Indian market with a mid-sized sedan, 10 years after it had exited the country. The plan, however, did not materialize.
Interestingly, Hindustan Motors currently does not own any trademark registrations related to the word 'Ambassador'. The earlier mark owned by HM was not renewed, and application for the new mark bearing numbers 2803570 and 2803571 have been advertised with the opposition period getting over on February 9, 2017 and February 9, 2016 respectively. As no opposition have been filed against the same, they will proceed to registration in due course. A list of trade-marks owned by Hindustan Motors in Class 12 are as follows –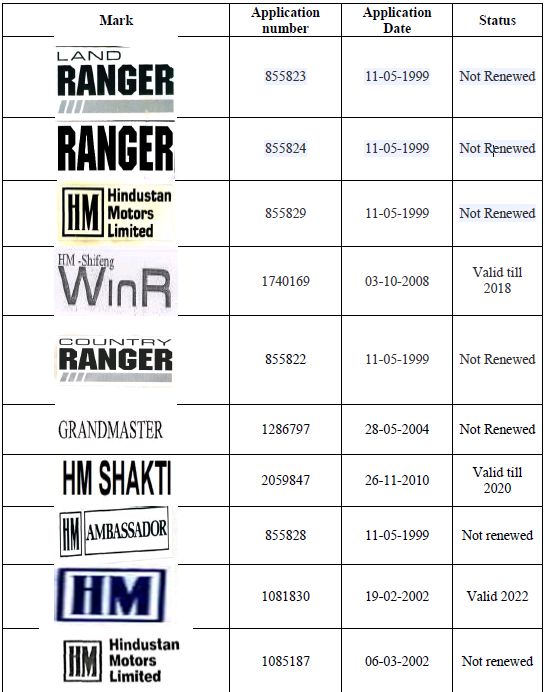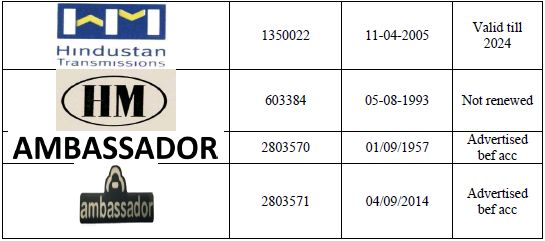 The content of this article is intended to provide a general guide to the subject matter. Specialist advice should be sought about your specific circumstances.