Introduction
E-commerce today has been defined as the buying and selling or provision of goods and services, or the transmitting of funds or data, over an electronic network. This article attempts to highlight the justification for the valuations of e-commerce businesses and whether effective legal due diligence can actually be conducted on such businesses.
After 21 years of being in business, Amazon only recently announced a quarterly profit. This is notwithstanding that it is currently valued at approximately US$370 billion, which is US$150 billion more than that of America's largest retail chain Walmart, even though Amazon has no physical retail stores. Uber, the online transportation network company, was founded in 2009, and is currently valued at approximately US$68 billion. This is US$20 billion higher than auto giant General Motors, which has been in existence since 1908. And Uber does not even create any motor vehicles!
Snapchat, valued at approximately US$24 billion, recently raised US$3.4 billion on the first day of its initial public offering (IPO) on the New York Stock Exchange. While it is "younger" than its e-commerce competitors, and still growing, its rate of growth has declined drastically in the recent months. Snapchat's shares in the first week of its IPO were trading at around US$25 but fell below US$20 two weeks after, closing at more than 4 per cent down and nearing the IPO price of US$17 per share. Crucially, its net asset value (NAV) is US$1.5 billion, and in 2016, it reported an overall loss of US$515 million. It certainly begs the question why a company is valued at US$24 billion, when its NAV is only over a billion US dollars. Besides, it is reporting half a billion US dollars in losses as recently as last year.
Former eBay executive Dana Stalder, a partner at Matrix Partners, which has funded fashion start-ups, Gilt Groupe and Just Fabulous Inc., stated that current valuations of e-commerce companies were "definitely inflated" and that e-commerce companies are "complex businesses to run. They generally are capital-intensive, have low margins, and therefore the exit multiples are typically one to two times revenue." In addition, Brian Piccioni and Paul Kantorovich from BCA Research suggest that the valuations made by venture capital (VCs) and private equity (PE) firms are indeed fantastical, and predicated mostly on what the shares might be priced at if the companies were sold or taken public. 
It has been widely reported that valuations of e-commerce entities are comparatively higher than companies in similar industry sectors. Whether these lofty valuations are justified or super e-commerce companies are realistically worth the stratospheric valuations, remain to be seen given that e-commerce is still growing and exits have been infrequent. However, conventional principles and experience suggest they are not, and investors would do well to be cautious. It is very likely that investments by sovereign funds (SFs), mutual funds (MFs), VCs and private equity players (PEs) boost the valuations (whether justified or not), and in order to have a huge rate of return on the investment, the SFs, MFs, VCs and PEs push the valuations even further beyond the horizon.
Valuation principles in the e-commerce sphere:
Traditional methods of valuation vs Untested factors
Traditionally, tried and tested methods such as discounted cash flow, growth and risk estimation have consistently been applied across various retail sectors to value the worth of a business. While these methods continue to be relevant today, it appears that such established fundamentals have been disregarded in the domain of e-commerce valuation.  Increasingly, valuations in respect of e-commerce "shops" are moving away from such established methods towards a consideration of a plethora of factors which vary widely, lack consistency and persons valuing such companies frequently "cherry-pick" the favourable factors to push up valuations.
Factors which are considered nowadays for valuations of e-commerce companies include sales, number of transactions, active users, "hits", the future state of the industry, and potential market size. There seems to be less emphasis on the historical or current profits of a company. The markets also seem to base such valuations on expected growth, market share, extremely optimistic revenue growth and not necessarily profitability. Furthermore, they seem to exclude certain vital data components including qualified human resources, logistics costs, advertising, percentage of orders refused/returned and shopping cart abandonment rate.
This could explain why Uber's significant valuation continues to grow even when it is not reporting profitability. In 2016, Uber's revenue grew approximately 18 per cent, from approximately US$960 million in the first quarter to approximately US$1.1 billion in the second. Nonetheless, in the same periods, Uber lost approximately US$520 million and US$750 million respectively. While Uber managed to raise unprecedented amounts of private and institutional money and is valued at US$68 billion, it continues to incur losses. It is unlikely to list on a stock exchange in the near future given the lack of congruence between the relevant figures. Uber's exit from China will severely impact its ability to grow revenue to justify its valuation.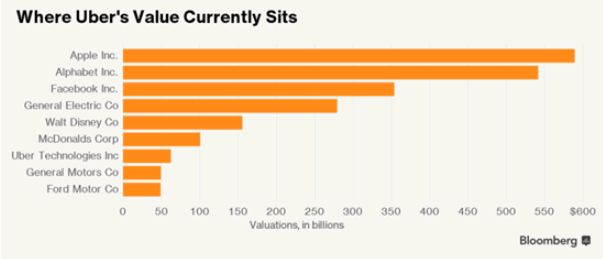 Source: https://www.bloomberg.com/news/articles/2016-08-17/an-expert-in-valuation-says-uber-may-have-already-peaked
One factor in contention recently is the Gross Merchandise Value (GMV). This measurement, heavily relied on for e-commerce valuations, is highly criticised by brick-and-mortar retailers. It has been critiqued as misleading and unsustainable. Instead of reflecting actual revenue earned by goods and services transacted through the website, it represents the total value of these goods and services and omits the costs of generating this revenue. Further, GMV does not account for any discounts, cancellation or returns. Ultimately, such revenue estimations do not equate to profits.
In addition, another driving factor for the rising valuations is the hype over technology transforming the society and the prevalent use of apps. There seems to be a great degree of "impatience" to push up the valuations without a patient and deliberate analysis of traditional and time-tested criteria. A good balance of both approaches would perhaps yield a more justifiable valuation. However, in doing this, one has to also pay heed to the changing environment stemming from the size and reach of global giants in the e-commerce space. Competition may occur at any time. There is also no loyalty on the internet, and users choose whichever solution which is the most convenient, user-friendly and at the lowest cost!
One could draw on the gladiatorial contests in the Colosseum as a metaphor to what the arena used to be for retails shops and what the arena currently is for e-commerce companies. In the past, barriers of entry for retail shops were high and not many were able to pay the "entrance fee" (in the form of high rentals, wages, etc.) to enter into the Colosseum and commence battle. However, the ones that did make it had fewer competitors and managed to build their businesses and make decent profit. Nowadays, with the advent of technology and the movement of the retail space from a tangible world to an intangible one, the need for retail space and employees has declined and the "entrance fee" is no longer high. However, a graver problem awaits a new challenger who enters the modern Colosseum and this comes in the form of mega gladiators, such as Google, eBay and Amazon. The highly competitive costs of inventory and shipping make it difficult for new, fresh and attractive companies to gain traction and market share, and those that do appeal to consumers can easily be replicated by new players or existing competitors. Therefore, although a fresh new e-commerce company starts with the appeal to be the next Unicorn, market realities and business vicissitudes usually get in the way of its potential quite swiftly.
Overall, considering the aforementioned, it seems that the process of evaluating an e-commerce company is still at an experiment stage, and much research and testing will need to be undertaken before a justifiable and reliable method is formulated to provide realistic valuations.
Is effective legal due diligence possible?
Assuming investors accept the financial valuations, there are certain legal issues and implications, which directly affect or are affected by such valuations. There are three important legal concerns which have to be considered.
For investments into highly-valued e-commerce businesses, legal due diligence is a challenge. Legal due diligence is meant to investigate the legal basis and validity of a business, its formation, enforceability of contracts, asset ownership, litigation matters and shareholder arrangements – these are critical elements of a business. When an investor intend to place vast sums of funds into companies, it would usually conduct due diligence on the target. Given the lack of clarity on valuation methods, relevant factors and a general consensus on how the target is valued, it is not easy to conduct an effective and thorough due diligence. Many e-commerce mega companies are reluctant to disclose much information to potential investors, citing "confidentiality reasons". However due to their appeal and strong bargaining position, their response to an investor is to "take it or leave it". Investors are expected to make a decision without the assurance of an effective due diligence. Although the quantum of investments is much higher in the e-commerce industry, the extent of assurance and security provided in the form of due diligence is notably lacking. Investors nonetheless will proceed so as not to be left out or losing the opportunity to another competitor-investor.
Another concern is the availability of exit strategies. Due to the lack of a valid and justifiable basis for valuations and a long line of regulatory and legal risks, many e-commerce companies would prefer to avoid the required due diligence and thorough examination of an IPO process. This process may expose fundamental weaknesses in the business model and therefore damage the reputation or perceived "glamour" image of the company. Essentially, this would immediately put their valuations in question and if they were remarkably inaccurate, the company could find itself in a dire situation. Hence, founders tend to avoid IPOs until absolutely necessary and this may not be in line with the investors' timelines for exits. In light of the above, it would be prudent for investors (and their advisors) to provide alternative strategies such as redemption, buy-backs, trade sales with drag-alongs and put options in their legal agreements to ensure there is a viable exit strategy.
A third concern is enforcement and obtaining damages for breaches by the company. As many e-commerce companies are established and exist on the World Wide Web, there is a growing concern that they are everywhere, yet also nowhere. Many companies have terms and conditions on their websites and although they may include governing laws and dispute resolution processes, once a dispute occurs, questions such as which country's laws apply and which forum would be the best-placed to hear the legal arguments will be raised. Quite often this "conflict of laws" dilemma must be resolved before the substantive proceedings can commence. Another worry is that many of these companies do not have a main headquarter or permanent establishment and this leads to jurisdictional questions of where to commence an action. One consideration is to determine whether the company has any assets in a particular jurisdiction such that an action is economically justified in that jurisdiction. Finally, the actual party at fault or proper party to sue (i.e. the e-commerce company, the founders, the promoters of the company, etc.) would also have to be determined. These preliminary questions could prove to be major stumbling blocks and may even lead to an investor being unable to claim deserved damages for breaches. It is also not uncommon for companies, founders and promoters of these companies to exempt themselves from any liability to investors in relation to any investment in the companies. Having an extraordinarily extensive list of "risk factors" in the offering memorandum or prospectus shifts the risks to the investor – hence the investor must beware.
Conclusion
Are these beyond horizon valuations justified and logical? There are not many e-commerce companies which are listed on securities exchanges. This could be due to the unstable geo-political climate, uncertain markets, untested methods of valuation and a general reluctance by the investing public to accept such valuations. Investors would be unwise to throw caution to the wind and accept such valuations blindly and without considering the risks stated above. Legal due diligence will not be comprehensive. In fact it would appear that minimal or limited due diligence is acceptable to investors. It continues to be a brave new world and although these valuations are not fraudulently conceived, circumspection and salt-pinching are certainly necessary when deciding whether to invest in the next promising e-commerce company.
Dentons Rodyk acknowledges and thanks Ann Chia for her contribution to the article.
Dentons is the world's first polycentric global law firm. A top 20 firm on the Acritas 2015 Global Elite Brand Index, the Firm is committed to challenging the status quo in delivering consistent and uncompromising quality and value in new and inventive ways. Driven to provide clients a competitive edge, and connected to the communities where its clients want to do business, Dentons knows that understanding local cultures is crucial to successfully completing a deal, resolving a dispute or solving a business challenge. Now the world's largest law firm, Dentons' global team builds agile, tailored solutions to meet the local, national and global needs of private and public clients of any size in more than 125 locations serving 50-plus countries. www.dentons.com.
The content of this article is intended to provide a general guide to the subject matter. Specialist advice should be sought about your specific circumstances.