CONTENTS
Why Malta?
Banks and Banking in Malta
Setting up in Malta
Ongoing Obligations
Taxation
Why KPMG?
Appendix: Living in Malta
WHY MALTA?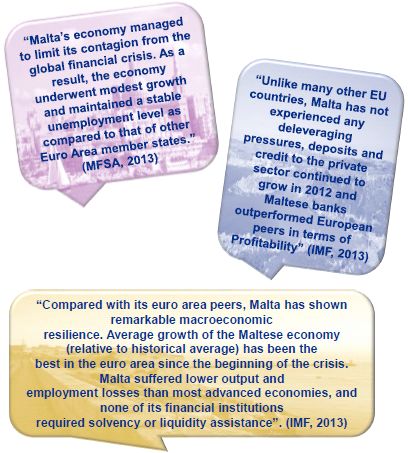 Key Economic Figures
GDP per capita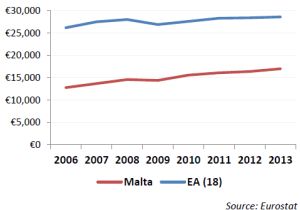 In 2013 Malta's GDP per capita increased by 3.7% while the Euro Area registered a 0.7% increase.
Growth in GVA during 2013 was mainly generated by an increase of 13% in professional scientific and technical activities
Economic Growth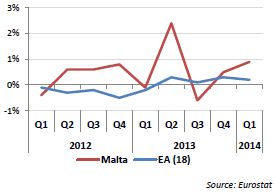 During 2013, Malta's real growth rate accelerated to 2.6% as compared to 0.8% registered in the previous year. In the first quarter of 2013, the Maltese economy expanded by 1.6% in real terms, making it the best EU performer during the period.
Whereas economic growth in the EU registered 0.1% increase during 2013 as compared with 0.4% drop registered during the previous year. Recovery in the Euro Area was even weaker during 2013 as real GDP contracted by 0.4%, as against a 0.7% drop registered in the previous year.
Debt-to-GDP
The local Debt-to-GDP ratio was 73.0% in 2013 while in the Euro Area 18 and EU28 it was 92.6% and 87.1% respectively.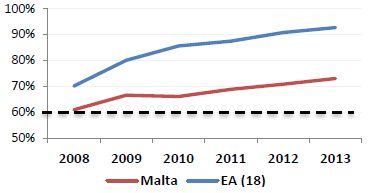 Unemployment rate
During 2013, unemployment rate in Malta remained stable, registered at 6.5%. In contrast to the Euro area and EU28 averages, unemployment stood at 12% and 10.8% respectively.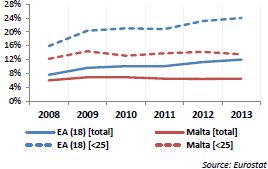 To read this Report in full, please click here.
The content of this article is intended to provide a general guide to the subject matter. Specialist advice should be sought about your specific circumstances.