The surge in U.S. IPO activity for Chinese companies that started in 2017 continued into 2018 and this year, with 37 companies completing IPOs for a total of US$8.7 billion in funds raised during 2018 and 14 IPOs for total funds raised of US$1.3 billion for the first five months of 2019.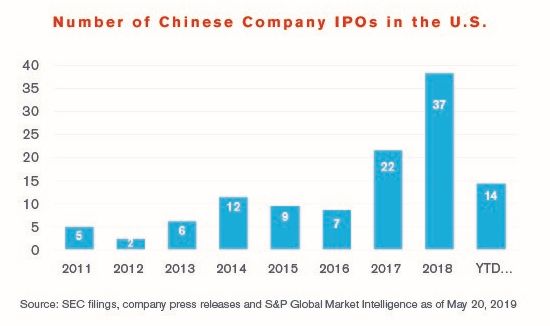 As of May 2019, there were 184 China-based companies listed on the Nasdaq, NYSE and AMEX. U.S.-listed Chinese companies represent nearly US$800 billion in total market capitalization, with the top 15 companies accounting for over US$650 billion. The largest U.S.-listed Chinese companies have been active in pursuing investments, acquisitions and other transactions both in China and outside its borders.
Going-private transaction activity for U.S.-listed companies based in China has slowed since the peak level seen in 2016, with one transaction closed in 2018 and three deals announced in 2018 that have yet to close. During the first five months of 2019, two previously announced going-private transactions closed, and one transaction was announced.
While China's overall outbound investment activity remains stable, Chinese M&A activity in the U.S. has declined significantly amid stricter government policies and rising trade tensions.
The ongoing U.S.-China trade dispute has also created volatility in the market and uncertainty for companies with global businesses and supply chains. The United States imposed tariffs on US$250 billion out of a total US$539 billion of imported goods from China in 2018, while China responded with tariffs on US$110 billion out of a total US$120 billion of imported goods from the U.S. in 2018.
Source: Bloomberg and S&P Global Market Intelligence (as of May 31, 2019) and various news sources (e.g., Bloomberg News, Reuters, The Wall Street Journal)
China Transactions Insights - Late Spring/Early Summer 2019.pdf (1.9) MB
The content of this article is intended to provide a general guide to the subject matter. Specialist advice should be sought about your specific circumstances.