Today, the FTC announced the results of "Operation Main Street: Stopping Small Business Scams," a law enforcement (and education) initiative targeting operations that seek to defraud small businesses. This initiative was conducted in conjunction with eight Attorneys General, the U.S. Postal Inspection Service, two U.S. Attorneys' Offices, and the Better Business Bureau.
The FTC's announcement included twenty-four actions, including one new FTC case, three other FTC actions from the past six months, two criminal actions announced by U.S. Attorneys' Offices and eighteen state actions over the past year.
In the Premium Business Pages action announced today, the FTC charged several corporate and individual defendants in the United States and Canada with operating a common enterprise that made unsolicited calls to small businesses and others to induce them to pay for unordered Internet directory listings, search engine optimization services, and website design and hosting services. The FTC alleged that the defendants claimed to be calling to collect on past-due invoice -- even though the consumers never ordered the services.
As part of Operation Main Street, the BBB also released a report on small business scams and the FTC and the BBB together released new business education materials.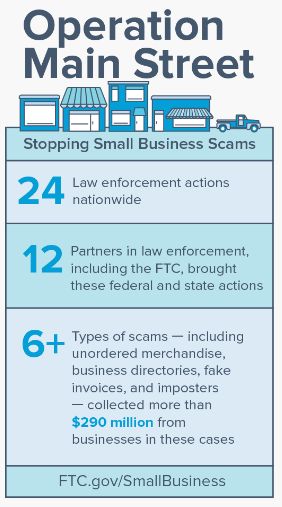 This alert provides general coverage of its subject area. We provide it with the understanding that Frankfurt Kurnit Klein & Selz is not engaged herein in rendering legal advice, and shall not be liable for any damages resulting from any error, inaccuracy, or omission. Our attorneys practice law only in jurisdictions in which they are properly authorized to do so. We do not seek to represent clients in other jurisdictions.