The FTC issued its 2017 Consumer Sentinel Network Data Book today, reporting the complaints it received from nearly 2.7 million consumers.  Over 1 million of those complaints involved fraud.  Debt collection complaints topped the list, followed by identity theft and imposter scams.  
For the first time, the FTC also tracked fraud losses by age group.  Consumers in their twenties reported losing money to fraud more often than those over age 70.  However, the median reported loss amount for older adults was higher than for young adults.
The data book includes both national statistics and a state-by-state listing of top report categories.  The top three states in 2017 reporting fraud, per capita, were Florida, George, Nevada.  Michigan, Florida and California had the most reports about identity theft, per capita.
The FTC and other regulators will clearly have plenty of work to do in the years ahead.
"While we received fewer overall complaints in 2017, consumers reported losing more money to fraud than they did the year before, "said Tom Pahl, Acting Director of the FTC's Bureau of Consumer Protection. "This underscores the importance of the FTC's work in educating consumers and cracking down on the scammers who try to take their money."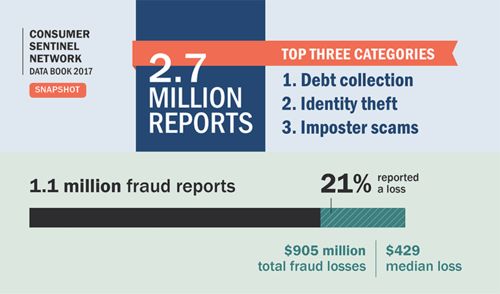 This alert provides general coverage of its subject area. We provide it with the understanding that Frankfurt Kurnit Klein & Selz is not engaged herein in rendering legal advice, and shall not be liable for any damages resulting from any error, inaccuracy, or omission. Our attorneys practice law only in jurisdictions in which they are properly authorized to do so. We do not seek to represent clients in other jurisdictions.