On January 19, 2017, the Federal Trade Commission (FTC) announced its annual revision of the filing thresholds under the Hart-Scott-Rodino Antitrust Improvements Act (HSR Act), increasing the minimum reportable transaction from $78.2M to $80.8M. The FTC also announced revisions to thresholds relating to prohibitions on interlocking directorates under Section 8 of the Clayton Act. 
HSR Reporting Thresholds
Under the HSR Act, parties may be required to file notification of various asset and stock acquisitions with the FTC and Department of Justice and observe a waiting period before closing. The thresholds for filing are revised annually to adjust for inflation. On January 19, the FTC announced new thresholds, which included increasing the lowest transaction value threshold from $78.2 million to $80.8. Higher valuation thresholds and the size of parties thresholds were also increased.   
Size of the Parties Thresholds & Reporting Obligation

Filing fees for transactions reportable under the HSR Act have also been adjusted. The new fees will be: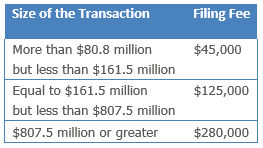 Clayton Act Section 8 Thresholds
New thresholds for the Clayton Act's prohibition on interlocking directorates were also announced. Section 8 of the Clayton Act makes it illegal for a person to serve as a director or officer for two competing companies when the companies' profits or competitive sales exceed threshold limits. Under the new thresholds, it is illegal for an individual to serve in these capacities for competing corporations if each company has capital, surplus, and undivided profits aggregating more than $32,914,000 (Clayton Act, Section 8(a)(1)), unless one of the companies' competitive sales against the other are less than $3,291,400 (Clayton Act, Section 8(a)(2)(A)).
Effective Date
The revised HSR Act thresholds will become effective February 27, 2017. The revisions regarding interlocking directorates became effective immediately.
The content of this article is intended to provide a general guide to the subject matter. Specialist advice should be sought about your specific circumstances.