On 4 July, the FCA finally published a policy statement (PS18/14) containing feedback and the near-final rules on the extension of the Senior Managers and Certification Regime (SMCR) to FCA solo-regulated firms. The FCA also confirmed that SMCR will be extended to FCA solo-regulated firms from 9 December 2019, following the roll-out to insurers on 10 December 2018
Given that the vast majority of responses to last year's consultation papers were supportive of the FCA's proposals, it comes as no surprise that the policy statement and guidance are broadly in line with the industry expectations of no fundamental changes to last year's proposals. The main changes have been outlined below:
Removal of the prescribed responsibility to inform the governing body of their legal and regulatory obligations
Minor changes around the enhanced regime thresholds: an easier process for opting up to the enhanced tier; 12 months to implement the enhanced tier obligations instead of six; and calculating some of the thresholds on a three-year rolling average basis to smooth out single-year anomalies.
The FCA decided not to provide further guidance on the duty of responsibility, stating that the existing guidance in the Decision Procedure and Penalties manual (DEPP) is sufficiently flexible to cover solo-regulated firms. In response to concerns that the duty of responsibility imposes burdensome record-keeping requirements, the FCA has asserted that the new requirements are no more onerous than the current Approved Persons Regime (APER) rule requiring significant influence function holders to take reasonable steps to ensure that their business area or function complies with regulatory record-keeping requirements.
In addition, the FCA published a guide to support firms in the implementation of the new regime. This contained a summary of rules and guidance, an overview of how SMCR works, what firms need to do under the new regime, and how the FCA will move firms and individuals from the existing approved persons regime to the new regime.
Overall, SMCR will have material impacts on firms' governance frameworks, HR processes and policies (including remuneration and training), record-keeping and ability to evidence the decision-making process with necessary audit trails. The onus will be on firms and senior individuals to define and implement detailed and efficient compliance strategies in line with regulatory expectations.
With now just a little over a year remaining, firms should start mobilising their project teams, completing the regulatory analysis and engaging key stakeholders to garner effective buy-in. They should also look beyond SMCR and adopt a holistic/strategic approach by considering the wider regulatory context which promotes better culture and diversity. Indeed, the FCA is expecting a cultural shift and change in mindset for both leadership and staff to ensure better outcomes for customers and markets and, as a result, firms will be expected to drive the right change and embed an adequate cultural framework.
Given that the final rules adopt a structure for the SMCR which is similar to that for banks, building societies and insurers, firms are likely to face many of the same issues and challenges. Based on our previous experiences, we have outlined a number of key upfront considerations and decisions which should frame the shape and direction of any SMCR programme. Find out more by clicking on the visual below: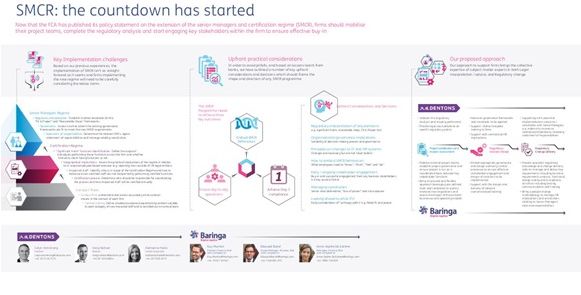 Dentons is the world's first polycentric global law firm. A top 20 firm on the Acritas 2015 Global Elite Brand Index, the Firm is committed to challenging the status quo in delivering consistent and uncompromising quality and value in new and inventive ways. Driven to provide clients a competitive edge, and connected to the communities where its clients want to do business, Dentons knows that understanding local cultures is crucial to successfully completing a deal, resolving a dispute or solving a business challenge. Now the world's largest law firm, Dentons' global team builds agile, tailored solutions to meet the local, national and global needs of private and public clients of any size in more than 125 locations serving 50-plus countries. www.dentons.com.
The content of this article is intended to provide a general guide to the subject matter. Specialist advice should be sought about your specific circumstances.