Foreword
In this, our latest Consumer Products M&A Insights review, we look back on 2015 as a year of significant European deal activity set against a backdrop of improved consumer confidence together with investors carrying significant accumulated funds to deploy.
From a UK economic perspective, consumer confidence returned with the GfK index in positive territory for the entire year. This was coupled with a return to a positive trend in real growth in earnings over an extended period for the first time since mid-2010. The increase in confidence was mirrored by an increase in 2015 deal activity with 36 large (+€200m) European deals with a combined value of €142.9billion ahead of the 34 deals with a value of €39.7 billion in 2014.
A significant highlight of 2015 was the €95.5 billion megadeal between ABInBev and SABMiller which, representative of many large deals, is likely to trigger further M&A activity amongst its competitors but also, importantly, resulted in follow-on divestments (namely the disposal of its share in the Molson Coors JV, the sale of its European Peroni, Grolsch and Meantime brewing assets, and sale of its 49% stake in China Resources Snow Breweries).
Similarly, the Reynolds Tobacco/Lorillard deal also triggered further activity by Imperial Tobacco and BAT as a direct consequence.
The Food & Beverage sector continues to be active, accounting for over half of major (+€200m) European deal activity, and has proved to be a favourable hunting ground for a number of major overseas investors.
Latin American headquartered companies have been particularly active with Brazil's JBS acquiring UK's Moy Park (meat processing), Brazil's BRF (via its Austrian subsidiary) acquisition of Thailand's Golden Foods for poultry production, Grupo Cuervo's swap of assets with Diageo – Jose Cuervo for Diageo's Old Bushmills whiskey and Alfa SAB's bid for Campofrio (meat processing).
We also saw clear examples of other overseas buyers flexing their financial muscle with Philippines' Monde Nissin delivering a knock out bid for Marlow Foods (Quorn), as did Asahi for SAB Miller's selected European brewery assets.
One of the other themes to emerge is that of ongoing sector consolidation with Nomad Foods reinforcing its position in the frozen food market with its acquisition of both Iglo Group and Findus. Elsewhere JAB Holdings, a major shareholder in DE MasterBlenders, further consolidated its position in the global coffee market with its acquisition of Keurig, having previously acquired some of Mondelez's coffee business.
In terms of the outlook for deal activity for 2016, the picture remains less certain. Our most recent CFO survey indicated that business confidence may be stalling over the sustainability of the global recovery and the impact of uncertainty over the UK's referendum on EU membership amongst other potential economic shocks. These factors have, in turn, appeared to have shifted CFOs to adopt more defensive strategies.
However, there a number of more positive reasons why the momentum in deal activity is likely to continue in 2016:
the relative decline in the strength of the Euro and Sterling against other major global currencies;
the presence of overseas buyers and private equity investors with significant war chests;
the attractive multiples being achieved by sellers at the moment.
On this latter point we would expect major companies to continue to take the opportunity to divest non-core branded assets such as Procter & Gamble's divestment of its international brands to Henkel. Other such current processes include Mondelez's proposed disposal of its Philadelphia branded cream cheese business and Two Sisters' planned divestment of its Fox's biscuits business.
Taking all this into account, 2016 offers the prospect of another active year for M&A in the Consumer Products sector, with continued investor interest, particularly through the Asian and US deal corridors into the European market.
Economic outlook – UK
In 2015, the UK economy put in a resilient performance with GDP rising by 2.2%, albeit down on the 2.9% growth recorded in 2014 and with future growth indications tuned downwards to c. 2.1% in the Chancellor's recent budget. While the 2015 performance represents the slowest rate of annual growth for three years, the UK still remains one of the fastest growing of the developed nations.
Continuing uncertainty over a potential Brexit, slowing global demand and volatility in financial markets remain a concern for the corporate sector, with the Deloitte CFO Survey showing that both business confidence and risk appetite are trending down.
UK consumer confidence, as measured by the UK GfK Consumer Confidence Index, recorded a promising increase in January 2016 recording a level of +4, however this had been pegged back to zero at the end of February 2016. Confidence in personal finance remained strong given the end to a six year squeeze on incomes, low interest rates and inflation having created a benign environment for UK consumers. However, concerns over the general economic situation over the next 12 months have eroded overall confidence levels, nonetheless the UK GfK Major Purchases Index remains positive at +12.
Unemployment remains at a ten-year low, falling again in December 2015. Wages continue to rise, albeit at a slower rate of 1.9%, down from the 2015 peak of 3.3%. With inflation at 0.3%, consumers should still feel a positive impact in their pockets. However, questions remain over why the strength of the job market has yet to translate into stronger and more sustained wage growth as well as how the introduction of the National Living Wage in April 2016 will impact on employment prospects for 2016, particularly given our expectation for many businesses to focus on productivity increases.
Inflation edged up to 0.3% in January 2016, its highest rate for a year, driven by a lower decline in energy prices than in January 2015. However the consensus view for 2016 is that inflation and interest rates will remain at a low level, which combined with low mortgage rates and intense competition in the grocery market, will continue to take pressure off consumers spending on non-discretionary items.
Borrowing costs also remain at a historically low level and through 2015 we saw a rise in unsecured lending and a decline in the savings ratio as consumers appeared happy to increase their personal leverage, borrowing more and saving less.
The outlook for 2016 is, on the whole, positive with GDP growth forecast to be at or near the same level as in 2015. However, some clouds remain on the horizon, with uncertainty over the ongoing strength of consumer spending coupled with the slowdown in growth in emerging markets, a potential Brexit and continuing volatility in the financial markets.
The 'UK GfK Consumer Confidence Index' remained positive throughout 2015 (ending at +2 in Dec-15, compared to -4 in Dec-14), the first time it has done so since the start of the Consumer Confidence Barometer in 1974. A strengthening UK job market, continuing levels of low-inflation (with sharp falls in petrol prices) and interest rates have boosted UK consumer confidence about their own personal economic situation and the outlook for the next 12 months. (see figure 1).

Improvements in discretionary income and consumer confidence in short-medium term outlook drove the 'UK GfK Major Purchases Index' from +5 in January 2015 (then a seven-year high) to +7 in December 2015, with the number of shoppers agreeing that "now" is a good time for people to make major purchases such as furniture or electrical goods peaking in June 2015 and August 2015 at +17. (see figure 2).

Improvements in real earnings (adjusted for tax and inflation) continued with average household incomes in the UK back to pre-financial crisis levels. Median household disposable income in the UK rose to £25,700 in the year to Dec-15, up £1,500 from the year before and marginally above the £25,400 pre-recession level, according to the Office for National Statistics figures. The new National Living Wage from April 2016 is expected to deliver a further boost to pay packets; however, its potential impact on employment levels remains uncertain. (see figure 3).

Agri-commodity prices continued to decline in 2015, with the decline in crude oil prices during the second half of 2015 being the most prominent (close to 40% decline since the start of the year). The continuing decline in prices seen in the early part of 2016 is likely to favourably impact consumer spending in 2016. (see figure 4).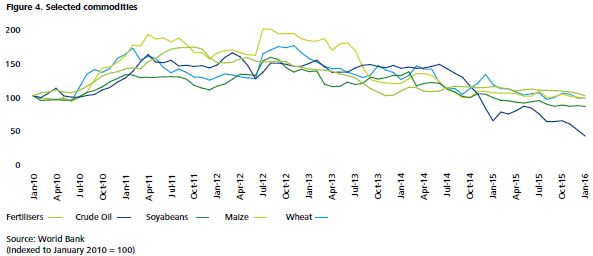 To read this Report in full, please click here.
The content of this article is intended to provide a general guide to the subject matter. Specialist advice should be sought about your specific circumstances.