The Russian Government continues to make steps to attract more IT-companies to run businesses in Russia.
In addition to special regulations and tax benefits for the companies operating within the special IT cluster "Skolkovo", to the flat 13% personal income tax rate, in June 2014 the Government approved the amendments that granted IT-companies the possibility to use simplified procedure for obtaining Russian work permits and visas for non-Russian employee with a lower annual salary.
These amendments widen the possibility for IT-companies to use the special visa and work permits regime. A company registered in Russia by an international IT-company may receive visas and work permits for its international employees if their salary is above 1 mln. Russian roubles (approx. 30K USD) annually. This application procedure is not subject to quotas limitation on employment of foreign employees and the work permit and working visa may be granted for the period of up to 3 years.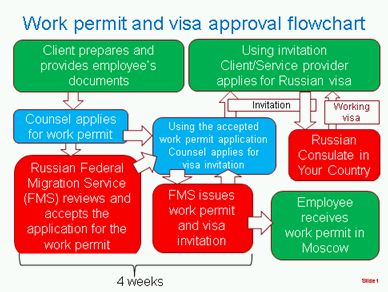 As you may see from the flowchart above, the full process of application for Russian work permit and working visa using the special regime for a highly qualified specialist may take up to 4 weeks.
It could be expected that more and more international IT-companies already running business in Russia or just entering the market will benefit from simplified and improved work permits and visa procedures.
The content of this article is intended to provide a general guide to the subject matter. Specialist advice should be sought about your specific circumstances.