The NSW State Government announced a funding package of $465.7 million for the waste and resource recovery sector over the next 5 years.
The NSW Environment Protection Authority (EPA) has released for public comments its Draft Waste Avoidance and Resource Recovery Strategy, which sets targets and performance criteria for improvement of the State's waste performance.
BACKGROUND
The EPA recently released the Draft NSW Waste Avoidance and Recourse Recovery Strategy (Draft WARR Strategy). The Draft WARR Strategy will replace the 2007 WARR Strategy, which is made under the Waste Avoidance and Resource Recovery Act 2001.
The Draft WARR Strategy will be a key component of the NSW Government's environmental and economic vision for the State over the next 10 years. It will be funded by an estimated $465.7 million in waste and environment levies to be generated under the Waste Less, Recycle More initiative and will work in conjunction with other State-wide initiatives, such as the NSW Energy from Waste Draft Policy Statement.
A full copy of the Draft WARR Strategy may be obtained here or through the EPA's website.
KEY ASPECTS OF THE DRAFT WARR STRATEGY
The Draft WARR Strategy aims to drive the efficient use of resources,
reduce the environmental impact of waste and improve the well-being of the NSW environment, community and economy. The Draft WARR Strategy sets out long-term targets, while also providing the framework for the development of various implementation plans, which will focus actions over shorter periods of time. The first of these implementation plans is the 'NSW Strategy to Combat Illegal Dumping'.
The Draft WARR Strategy also outlines a number of 'responsibilities' for different sectors, including industry, business, and the waste and resource recovery industry. These responsibilities involve implementing in-house strategies and systems to meet 'Key Result Area' targets. These targets (each based on 2010-11 figures) and responsibilities are outlined below.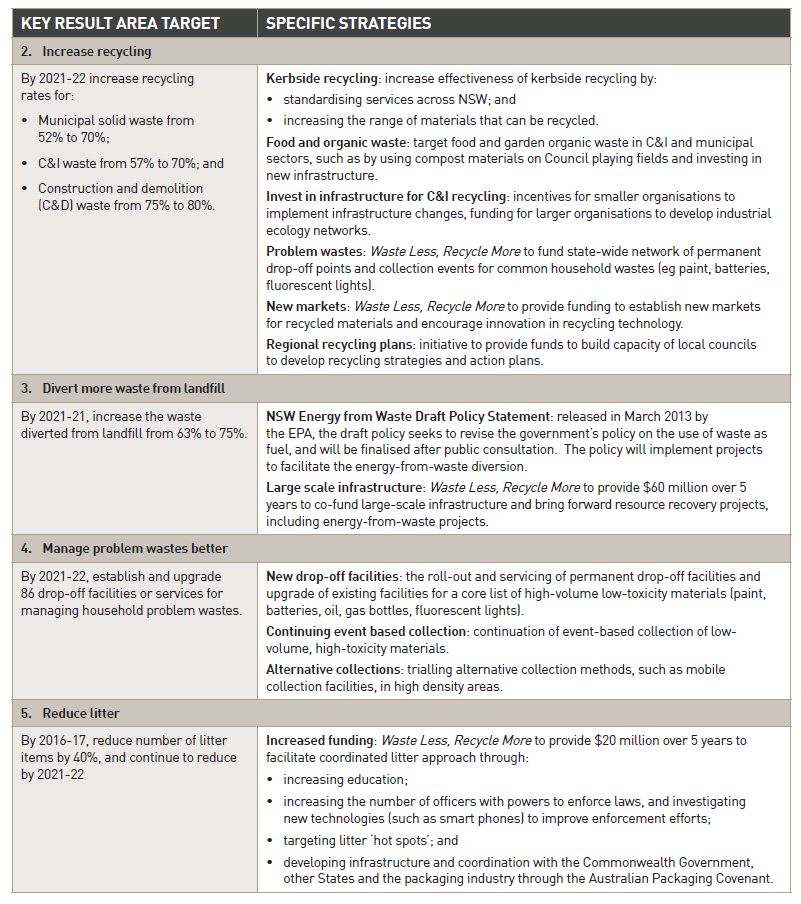 YOUR SAY
Community and industry groups are invited and encouraged to provide comments on the Draft WARR strategy. Submissions can be mailed to:
NSW Waste Avoidance and Resource Recovery Strategy 2013-21
Waste and Resource Recovery Branch
Environment Protection Authority
PO Box A290
Sydney South NSW 1232
or by email to warr.strategyreview@ epa.nsw.gov.au.
The closing date for submissions is 16 December 2013.
The content of this article is intended to provide a general guide to the subject matter. Specialist advice should be sought about your specific circumstances.
Most awarded firm and Australian deal of the year
Australasian Legal Business Awards
Employer of Choice for Women
Equal Opportunity for Women
in the Workplace (EOWA)